WebSDR receiver - OK1KPU
This is a WebSDR receiver located in czech Cínovec JO60VR. It is operated by radio club station OK1KPU, admin e-mail Karel.Kadlec@pirati.cz.
It seems you are using a mobile device; click here to switch to the mobile version of this site.
It seems Java is not installed or disabled on your computer. You need to install and/or enable it for this website to work properly.
Since Java version 7u51, Java needs to be enabled separately for each website; see
http://websdr.org/java.html
for instructions.
Your browser does not seem to support HTML5 WebAudio; please try a recent version of Firefox, Chrome, Opera or Safari; or switch to Java.
---



Bandwidth:
?
kHz @ -6dB;
?
kHz @ -60dB.
Or drag the passband edges on the frequency scale.
Waterfall view:
Or use scroll wheel and dragging on waterfall.

?
dB; peak
?
dB;
mute squelch autonotch
Volume:
---
Signal strength plot:
---
---
Chatbox:
This chatbox is intended to discuss the operation of the WebSDR.
The operators of this site disclaim any responsibility for text appearing in this chatbox.
---
Statistics:
---
More information about the WebSDR project can be found on http://www.websdr.org.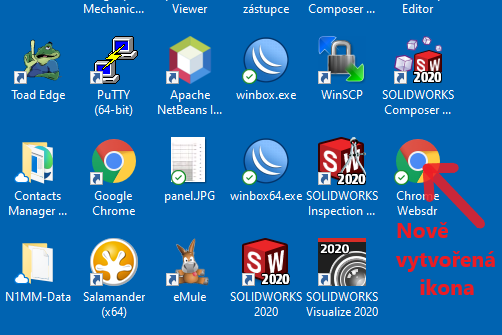 NEW update:(April-2021) You can download the NEW Chrome Audio Repair Program that creates a new startup icon on the desktop. Note: You must close Chrome before using Chrome Websdr to properly open a new Chrome window.
For Microsoft Edge read how to enable sound in M$Edge.
Please donate to run websd on our bank account 2701802320/2010, variable symbol 1111, IBAN:CZ31 3010 0000 0027 0180 2320, SWIFT: FIOBCZPPXXX
For your convenience, here is a payment QR code. Just scan it in the mobile banking app.
Our websdr donors
-

OK1DXT

OK9PEP, OK1JAX
-
OK1JAX, OK2BOB, OK1BTC, DL5CN, Šurin Kletečná, Ladislav Filip
-
-
-
-
-
OK1DUB, OK2MEZ, OK1HI, OK1FC, OK1SVB, OK1UNL, OK1FFA, OK1HAS, OK2VLK, OK1JGM, OK2-36364, OK1DXT, OK2VLK, VE6MV, ZL2CZE, DL2MSA, DJ5MX, JR7VHZ
Contact: AVZO TSČ ČR TEPLICE hrad DOUBRAVKA, hrad Doubravka 104, 41504 Teplice, IČ:66090806 DIČ:CZ66090806
---